Rows of prominently displayed beer tanks beckon you into Vltava Czech restaurant from big picture hallway windows, and it's just as well they have something to make them stand out, considering their prime Topwin Mall real estate next to popular Japanese restaurant Beyond Yakitori and the arguably even more famous Coucou hotpot restaurant.
Despite that promising start for Beijing beer and pub grub lovers, the restaurant was shockingly empty when we stopped by for lunch one afternoon. Sure, a Czech style beer and hearty Eastern European haunt would be more appealing in the evening for anyone looking to soothe their winter blues by getting boozy and bloated off such wares. Yet Brotzeit, a small but slick German chain that would likely be this restaurant's biggest competitor, never seems to be as dead quiet as Vltava on the day we stopped by.
Read our review of Brotzeit here.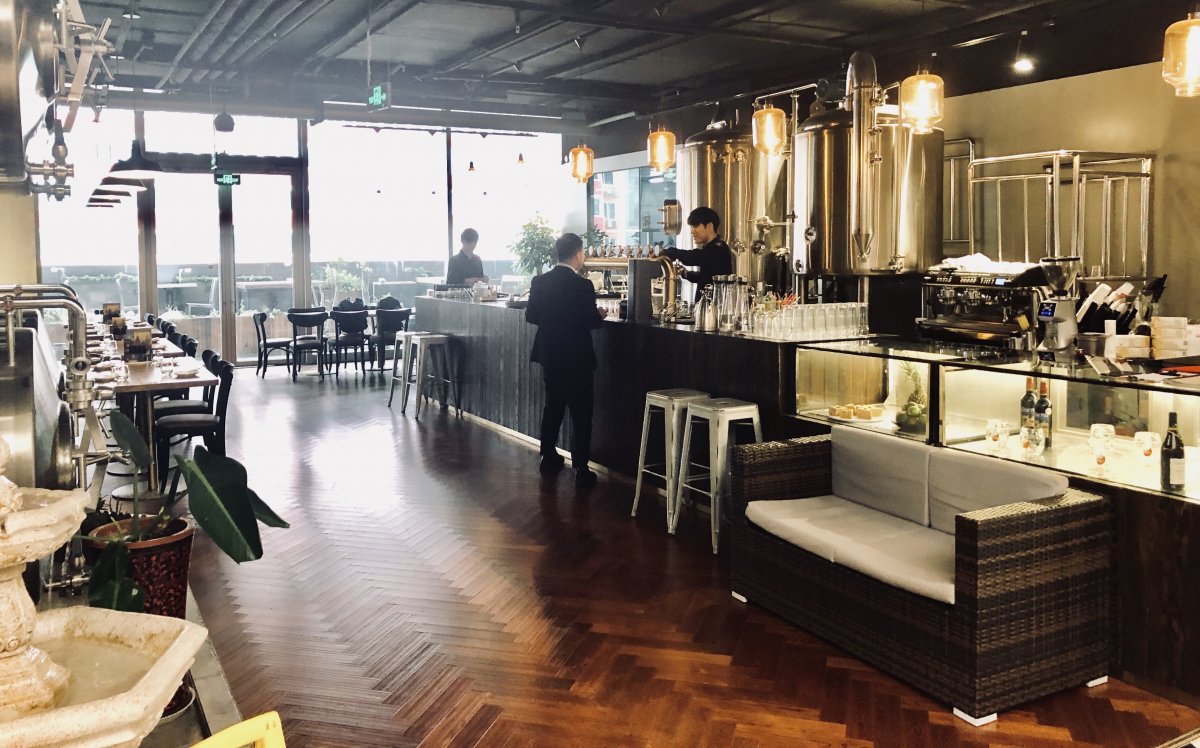 Of the three beers listed on the menu, we tried RMB 50 dark brew (a couple of lighter varieties being priced at RMB 48 instead). It had a satisfyingly bitter flavor and equally pleasingly level of potency but lacked complexity or creativity.
The skin of the RMB 100 stuffed pork shoulder we ordered wasn't crispy like we hoped, offering little contrast to the soft meat and thick layer of fat. The meat was tender and pretty juicy, though a bit bland unless you gave it a really good dousing in the plate's sweet sauce. And, sadly, the portion was measly for the price, amounting to three silvers of pork when it really should've been four or five.
Good news in terms of service, though: the wait staff is friendly, attentive and fluently bilingual (at least during our visit). Vltava should build on that promising attribute with a few smaller, cheaper lunch options, more generous portions and flavoring, and a few more beer varieties on tap. Otherwise, this Czech restaurant will be vexed by the likes of Brotzeit, Bodensee Kitchen or other such Beijing restaurants.
Vltava
Daily, 11am-11pm. No. 3-1, 3rd Floor, Tongying Center, South Sanlitun Road (‭010 8877 6686‬)
南三里屯路通盈中心3层3-1号
Photos: Kyle Mullin