Any Shuangjinger with a sweet tooth is sure to be satisfied by Freak Shake. The newly opened dessert shop in the southern neighborhood's Viva Mall has a menu featuring twenty-odd sugary, frothy and fun milkshakes, along with a number of other creamy sweet drinks, ice creams, and cakes.
Freakshakes – gigantic milkshakes loaded up with baked goods, ice cream, candy and pretty much anything else you can get your hands on – started as a trendy, photo-friendly dessert in 2015 in Australia, and quickly began taking the world by storm a year later. Now it seems, they've landed in Beijing.
Predicting that all that dessert would put us to sleep, we opted for the Caf-Fiend coffee-flavored shake. Pictured in the lead image above, it's a creamy dark coffee-flavored shake, sprinkled with coffee beans for good measure, and slathered with chocolate syrup that flows over the glass' brim, steering you towards the straw hands-free so as to avoid getting messy. Don't be too wimpy though, and use the spoon to dive in and scoop out the bonus treat in this already excessive dessert: a small Graham cracker and marshmallow s'more.
Other menu options include the equally delicious looking Like a Velvet red velvet shake (RMB 35 for a "baby" sized small or RMB 45 for a big "freak" size), the aptly named Pretzella, the Mint Condition (both RMB 48/38), and a few savvy Asian market ready options like the Thai Freak and a matcha flavored shake (also both RMB 48/38). Their cakes (double chocolate, milk chocolate banana, salted caramel all being on offer while there) will set you back RMB 78, while their half-dozen flavors of ice cream cost RMB 28.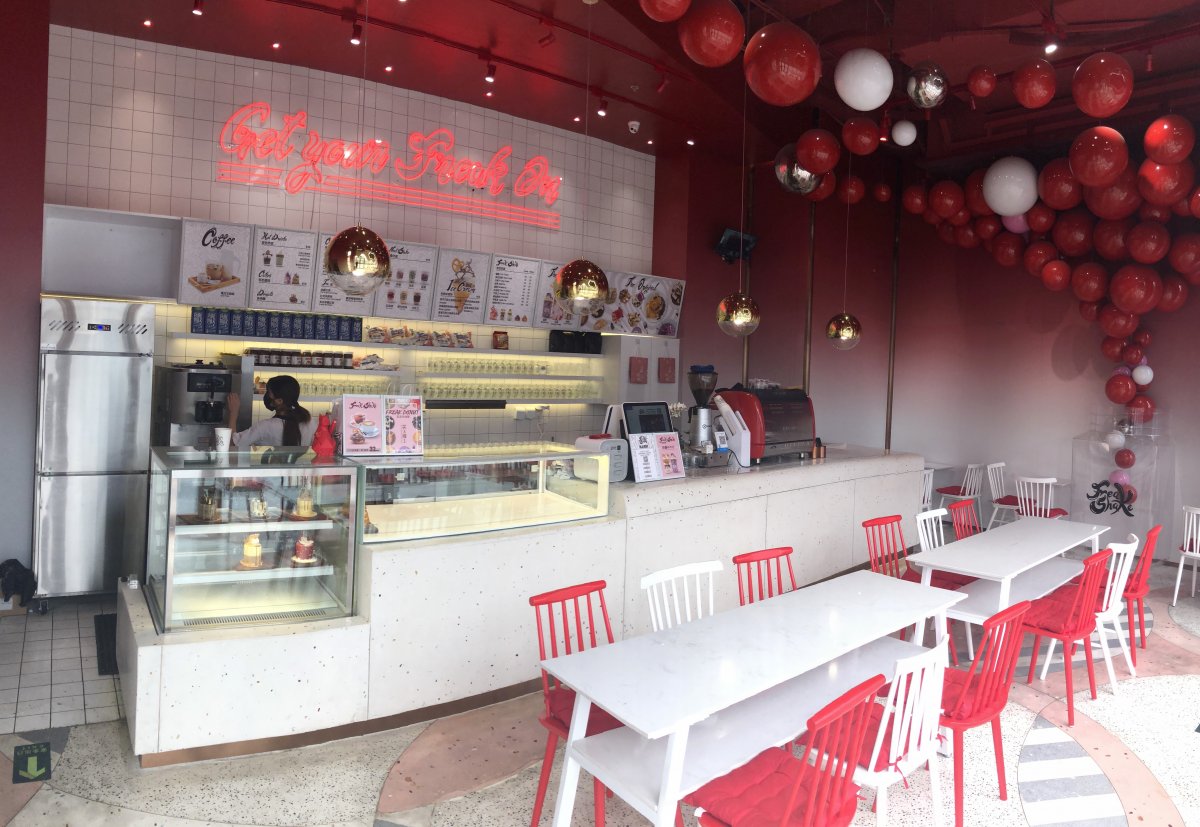 The decor is almost as vibrant as the desserts. Painted in peppermint-like bright red and white, the eye-catching walls match the simple hardback chairs and faux marble tables. A glowing neon sign in the background beckons you to "get your freak on!" And that's certainly what you'll feel like doing after experiencing the sugar rush and upbeat ambiance that this charming new dessert shop has to offer.
READ: Shanghai's Lelecha Stuffs Viva Mall With Excellent Strawberry Cheese Tea and Colorful Bread
Freak Shake
Daily 10am-10pm. 1F, Viva Mall North, 65 East Third Ring Road (next to Zara's east exit), Chaoyang District (158 1109 0083)
朝阳区东三环65号富力广场北侧(ZARA东门旁)
More stories by this author here.
Email: kylemullin@truerun.com
Twitter: @MulKyle
Instagram: mullin.kyle
Photos: Kyle Mullin