Some musicians are notorious divas, intent on controlling every facet of their image. And then there's Mike Milosh, who let the public and the press incorrectly assume he was a woman for months after his big musical breakthrough.
"There were all these articles and reviews of our debut, where the writers assumed I was a woman, and I never tried to contact and correct that," Milosh tells the Beijinger ahead of alt-R&B project Rhye's Nov 14 show at Omni Space.
Indeed, when Rhye – the then duo that Milosh co-founded with Danish instrumentalist Robin Hannibal, who has since left the project – first made its debut in 2013 with the aptly titled debut LP Woman, the frontman's feminine, sultry vocals weren't just put center stage in a figurative sense, they were practically all the listener had to latch onto. Milosh wasn't photographed for the album art for promos. He didn't do interviews. But as the yearning, romantic songs that he and Hannibal had penned drifted from obscurity to become embraced by the masses, Rhye's ever-growing fan base began to wonder who this mysterious songstress was.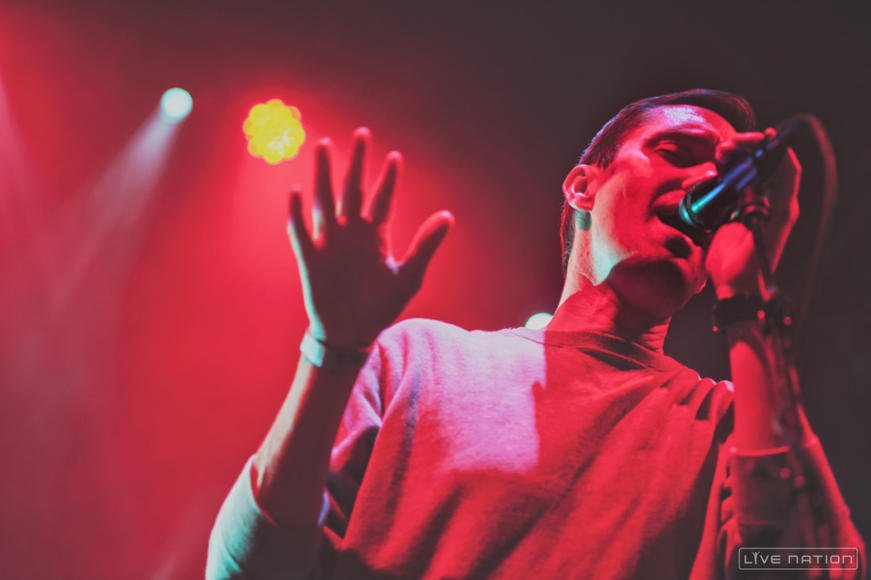 When Milosh stepped into the limelight as mainstream success and touring became imminent, many fans were dumbstruck to see the man behind the mike. But after Hannibal's departure, the release of the follow-up Rhye record, 2017's Blood, and a more conventional rollout where the singer appeared on magazine covers and folded to press demands to promote the new LP, fans are now far better acquainted with the once enigmatic artist.
Below, Milosh tells us more about that public unveiling, what it was like to move on after Hannibal bowed out, and why he changed his once famously haughty stance on playing certain songs live.
Your cover of the Procol Harum classic "Whiter Shade of Pale" is beautiful. But I've read in the past you refused to "do covers or play party music." What changed your mind?
A whole bunch of things. My decision was definitely based on how much energy it took to make this second Rhye record, so much financial energy, and physical energy just to do it well. During the rollout, [music streaming giant] Spotify invited my band and me to take part in this cover song series. I thought about it for a while, and decided if I were ever to do a cover, it should be "Whiter Shade of Pale" because I can still remember hearing it for the first time, when I was just a little kid, and I still remember how beautiful it was and how much I loved it. And it has stayed with me ever since my childhood exposure – that song was very defining.
Why was recording Blood so physically and financially draining?
I wanted to make another record for a while but because of legal constraints, I couldn't. So I bought myself out of my record contract before putting this album out. It was a big decision and I realized that to make the money back, to make it worth it, I'd have to really push hard. I thought about changing the name of the project or doing something else, but deep down I knew it'd be a shame not to put out another Rhye record.
And I've felt liberated ever since in terms of creativity. I'll be putting out a new EP in January, and I'm also already working on the next Rhye record.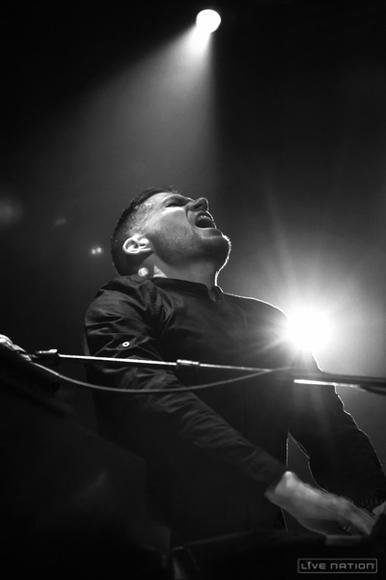 What will the new EP be like?
It's mostly just me singing with piano accompaniment. I love the idea of how the piano and vocals work together. It's a musical combination that we've had for 400 years, and we've maintained that for so long because the two complement each other so well.
I don't want to get stuck in a rut, where Rhye music always has a strong R&B component. I wanted to put out a collection of songs that fit a downtempo moment, that you can put on while you're making dinner and enjoy it. Music shouldn't always be confined to a social space. I wanted to put out something that's more introspective.
But many songs on Woman are already considered to be downtempo and intimate. It's interesting that you want to go even further than that. Do you have to make more upbeat versions of some of these songs to keep the energy going onstage?
I've played a lot of shows in the past five years; nearly 600. For me it just depends, whether it's a festival or a tiny little show, I try to just cater to the evening's audience.
If it's a festival gig I go big, have an eight-person band, an organ and a guitar and a cello, and I'll play percussion so that there's a deep sonic palate. And then there are other times where I'll sing for only 200 people without a microphone and just try to project in a vulnerable way.
Singing without a microphone sounds like a scary prospect!
I had a string of shows that were very experimental and intimate. I got comfortable even with everyone in the audience lying down, and me literally walking over them while singing. It gave me the courage to be carefree.
So yes, sometimes I sing for 10,000 people, and sometimes there are only 20 people and they can hear you breathe. And I've become comfortable dancing between all those environments.
Did achieving such feats onstage help you offset any frustrations that stemmed from your record contract issues?
Yes, it did. But I'd strive for similar goals regardless. Because, for me, being an artist is about never falling into a routine or into complacency. And anytime I do fall into those ruts I try to change things up a bit.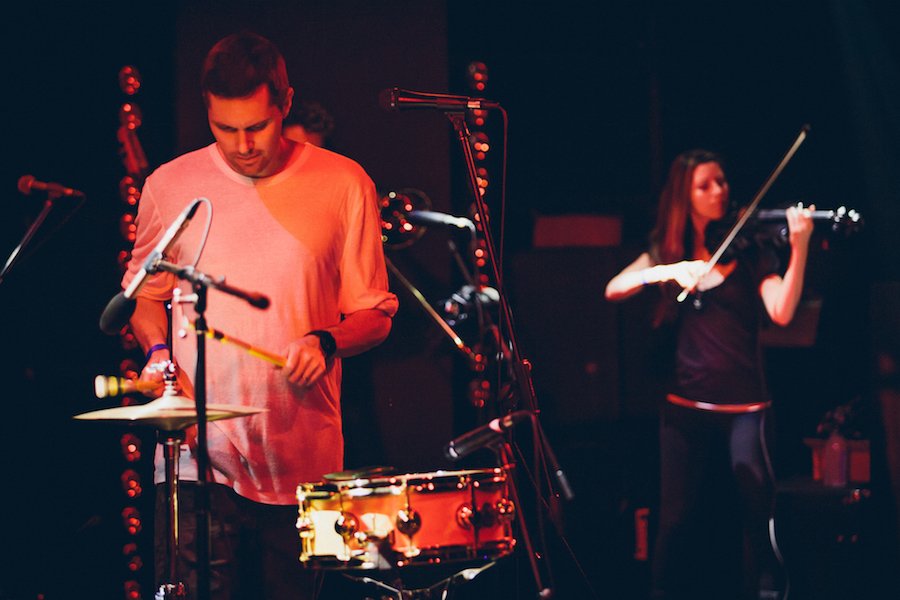 It seems like the biggest shakeup you've experienced was recording Woman with Robin Hannibal, and then making Blood without him.
Yes, it was a huge change. That first Rhye record was an apartment record, really. It had such clean sound, all programmed drums. It's easy to put music together that way. But eventually, I got frustrated with that sound. I'm also a drummer, and for Blood it was important for me to record the drums live. I was lucky to have a studio, to record things live with the band, to make this second more organically.
And that mindset even extended to trivial things. I tried not to look at computer screens while making Blood. When we were recording, all the monitors were facing away from me, so I couldn't see them. And that all fit with the overall organic approach to the record – we took longer takes, we had a piano and organ, we had live drums instead of the preprogrammed ones Robin and I used on Woman. So it felt much more like a live record, and more traditional in some ways.
Another major change between those albums was using taking an active role to promote Blood, appearing on magazine covers and doing a lot of press. That's a huge shift from Woman, when people didn't even know what you looked like.
By the time I began working on Blood, I had played hundreds of shows, and a lot of people saw me. It started to feel like a gimmick to not show myself. And I wasn't trying to make it a gimmick, I just didn't want to be in photos or heavily promote Woman at first, back before Rhye became so popular. Trying to be mysterious began to feel fraudulent, and when I began getting a lot of press requests, I agreed.
I also just really wanted Blood to do well. I thought: 'Seeing as I put so much into recording it, I might as well promote it.'
Was it daunting to leap into the limelight like that?
No, not really. People tend to assume, because Rhye's music is sentimental, and because I didn't do a lot of promotion for the first record, that I'm very introverted and enigmatic. But I'm actually quite outgoing. I'm not shy. I don't get stage fright. I'm calm and natural around people, not angsty or standoffish.
Are such misconceptions frustrating?
No, because I'm not interested in controlling people's views. There were all these articles and reviews of our debut, where the writers assumed I was a woman, and I never tried to contact them and correct that.
What people think of me is not up to me. I just put out what I create. And after that, it's out of my control.
TBJ's Top 5 Rhye Tracks
Open
The quintessential Rhye song that made most fans fall in love with the act, "Open", the lead track from debut album Woman, is mysterious, wistful, and sultry. Upon its release, the Sade-style vocals quickly lured listeners in, leading to much surprise among fans and critics when they discovered that they are in fact sung by Milosh, who is very much of the male persuasion. If those revelations weren't meant to be market savvy, then they were the happiest of accidents, prompting a lot of press, as well as rave reviews.
3 Days
From the harp string intro to the simmering disco beat, this Woman deep-cut is a showcase for Hannibal's musicianship. Milosh also rises to the occasion with the pleasured and pained "oohs" on the hook. Aside from the pair's audible chemistry, this song stands out as listener's first chance to hear Rhye lighten up and defy the moodier, melancholy image that would be pegged to their music thanks to the widespread success of singles like "Open". On top of that, it exudes a certain sexiness – from the come-hither horns to the lyrics about cracking bottles of wine and burning bright – demonstrating that Rhye can also be tantalizingly playful.
Waste
This opening track from sophomore album Blood begins with heartbeat percussion and a pulsing bass line. It's restrained and yearning, especially as the plucked guitar notes ring out over Milosh's speak-singing and hums before he lets forth soaring moans that simultaneously ooze ecstasy and agony. "Waste" proved Milosh could deliver what Rhye fans demanded without Hannibal's more downbeat musical backdrops, and also acted as a showcase for the versatility and heart-stopping force of his voice.
Feel Your Weight
An instantly danceable bassline kicks off this Blood highlight before a sprinkling of high-pitched intermittent percussion and declarative horns interject, marking a stark departure from Rhye's heavy-hearted earlier hits. This song also gave some fans a reason to bemoan Hannibal's departure and his tear-stained techniques that drenched the singles for Woman. But those who loved Rhye's earlier upbeat tracks, like the aforementioned "3 Days", were pleased to see hear Milosh swagger assuredly on this undeniably alluring track.
"A Whiter Shade Of Pale" (Procol Harum cover)
Despite insisting in an interview with Noisey that he doesn't "play covers or drunken party music," Milosh made a perfect cover selection during the rollout for Blood. As Stereogum reported, Rhye broke out this 1967 classic at a live performance for Spotify. And why not? Procol Harum's original boasted the eerie juxtaposition of classic rock vocals and a sensuous, heartsick church organ riff that also reverberates throughout Rhye's tension-rife repertoire. Milosh and his touring band take the time-honored hit and give it a Rhye twist, foregoing the iconic organ in favor of velvety string notes, giving the proceedings a feather lightness, as well as laying down more subdued vocals than the searing heartache of Gary Brooker. The result is a tone akin to the fading melancholy from an old flame you're finally ready to move on from, as opposed to the feeling of a fresh breakup Procol Harum conjured all those years ago.
Rhye will perform at Omni Space on Nov 14 at 9pm. Tickets start at RMB 300. For more information, click here.
Never miss a gig: click here for a huge list of live shows in the city, updated daily.
Photos: Blurred Culture, Live Nation, rhyemusic.com, courtesy of Modern Sky